Community Investment
Open Today!
Sales:
9am-8pm
|
Call us at: 707-253-9100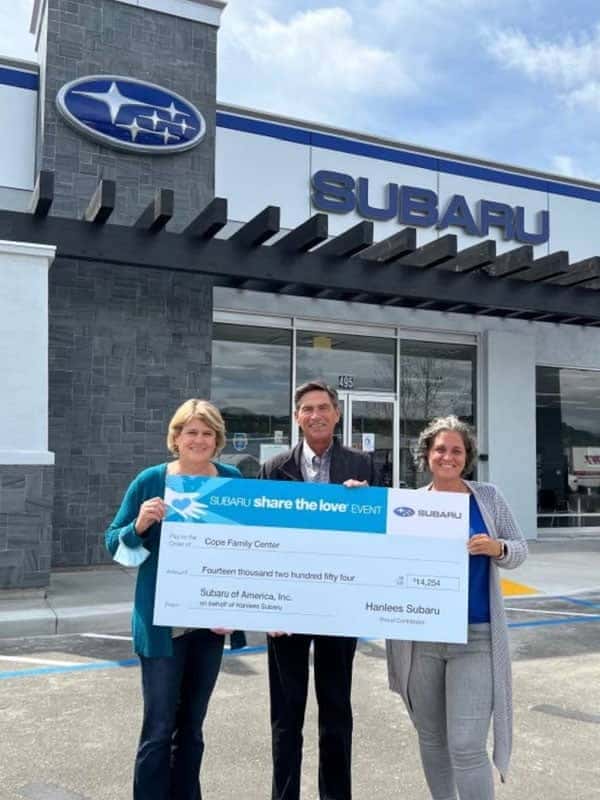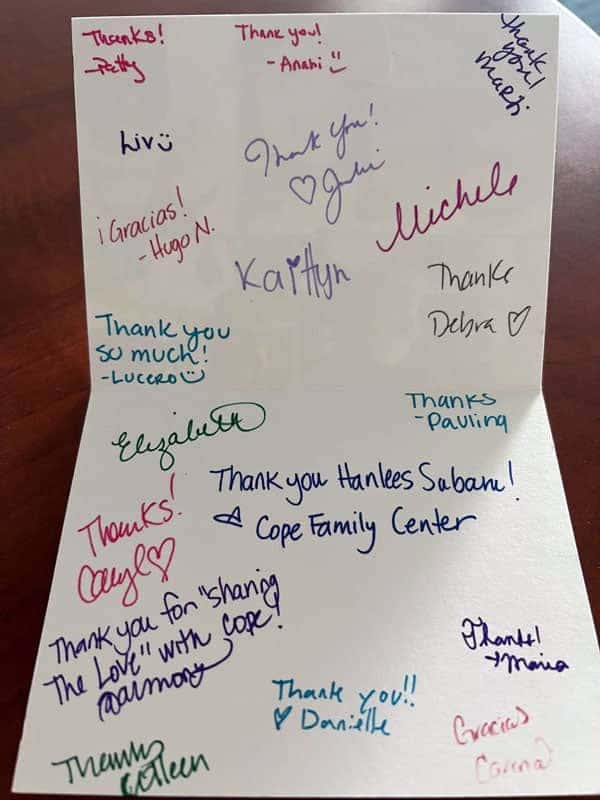 June 6, 2022
Hanlees Napa Subaru is proud to announce that we've donated over $14,000 to the Cope Family Center as part of Subaru's Share the Love charity initiative! Cope Family Center is a local family resource center in Napa, CA that provides free education, resources, and support to parents and their children. Cope started as a volunteer organization, and continues to rely on community support to carry out their services, so we are grateful to be able to contribute to their cause!
Visit copefamilycenter.org to learn more about this organization!
---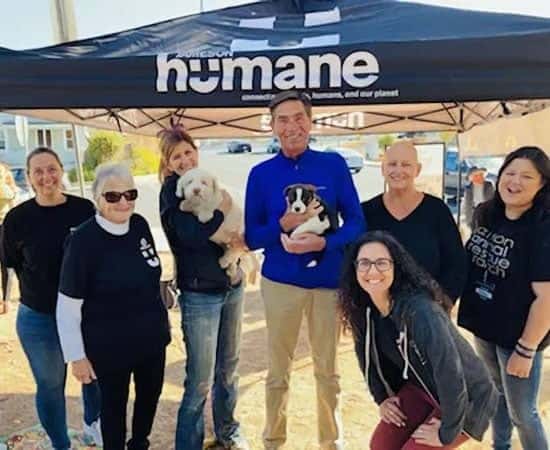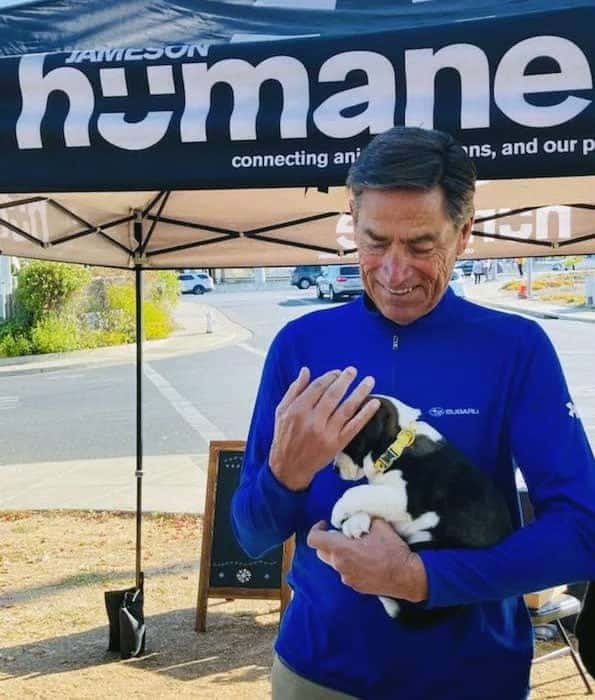 October 9, 2021
Hanlees Napa Subaru is proudly partnered with Jameson Animal Rescue Ranch as part of the Subaru Loves Pets initiative! Jameson Animal Rescue Ranch is no-kill, rescue shelter that was founded in 2014 by David and Monica Stevens. This shelter is the home to a wide variety of animals, ranging from cats, to dogs, to horses, and other farmed and domestic animals.
On Saturday, October 9, Jameson Animal Rescue Ranch hosted a Subaru Loves Pets adoption event at the Napa Farmers Market! For every pet that was adopted, Subaru and Hanlees Napa Subaru donated $100 to the shelter. But this amazing opportunity does not stop there - donations are given for every animal adopted during the month of October! All donations to Jameson Animal Rescue Ranch go to keeping the animals safe and healthy.
Please visit jamesonanimalrescueranch.org to learn more about Jameson Animal Rescue Ranch!
---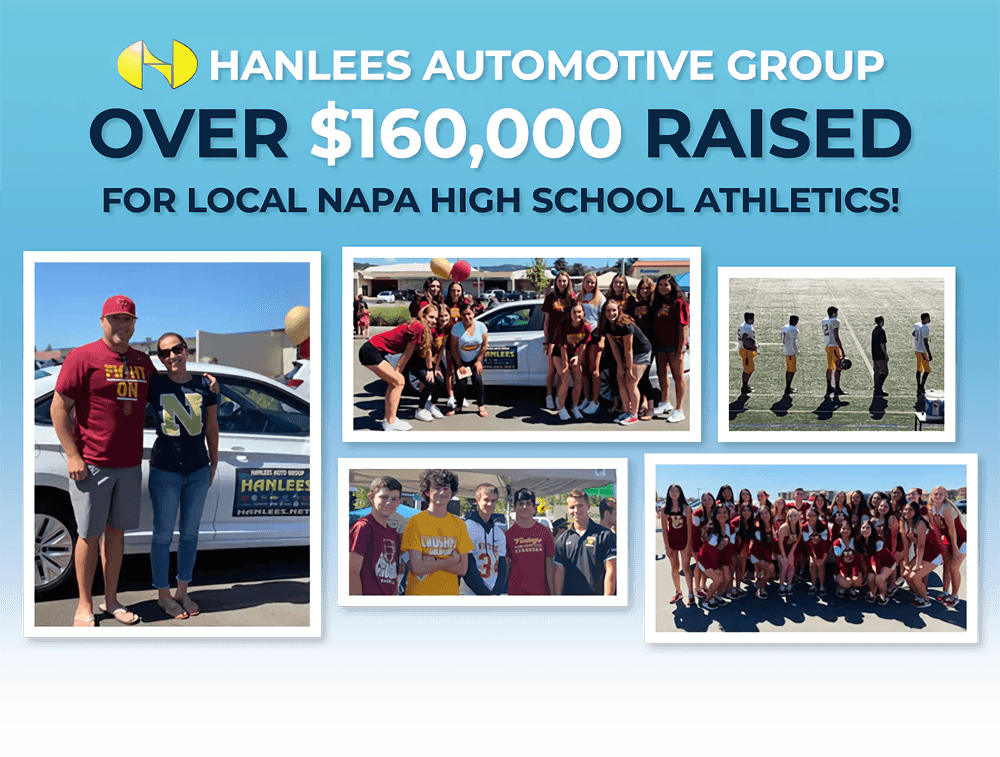 November 5, 2019
Hanlees Auto Group recently teamed up with local high school booster clubs to put on a fundraiser for Napa's various athletic programs. We donated a brand new Volkswagen Jetta, which was put up for raffle during a local Napa high school football game on Friday, November 1, 2019. Through a tremendous effort on behalf of the students of Napa High School and Vintage High School of Napa, enough raffle tickets were sold to raise over $160,000!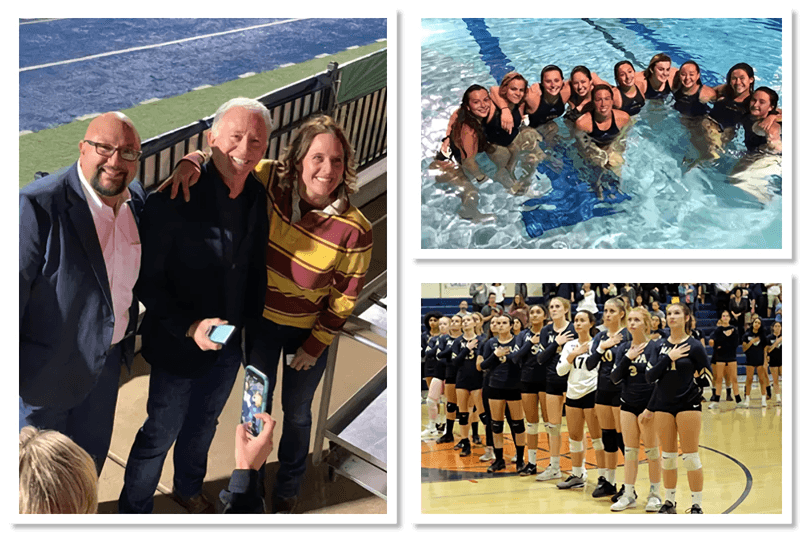 These funds will go right back to high school athletes through the schools' booster clubs. These clubs are responsible for supporting high school teams and programs beyond what their school funding can provide. The money we helped raise will go towards the costs of equipment, transportation, coaching staff, and tournaments to ensure Napa's athletic programs are of the best quality. The booster clubs benefit all athletic programs including football, basketball, volleyball, cheerleading, and more!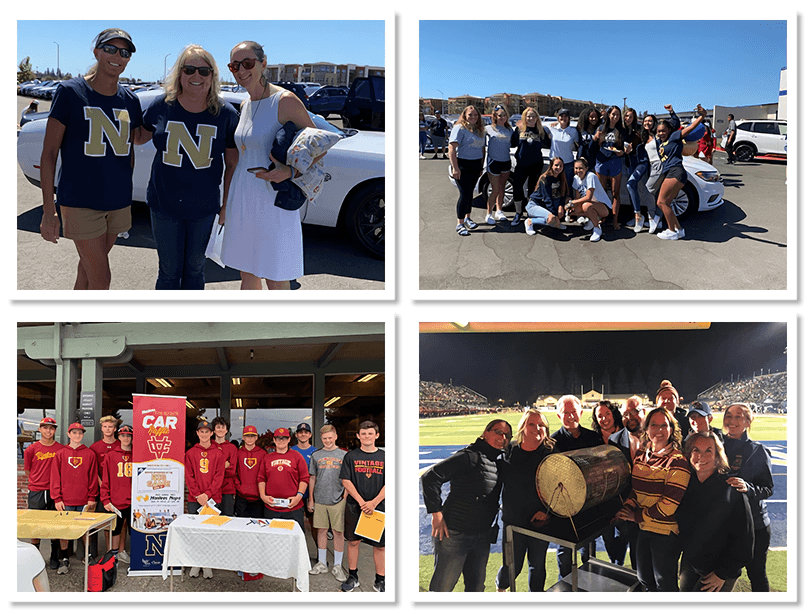 Mon - Sat

9:00 AM - 8:00 PM




Sun

10:00 AM - 8:00 PM



Mon - Fri

7:30 AM - 5:30 PM




Sat

8:00 AM - 4:00 PM




Sun

Closed
Mon - Fri

7:30 AM - 5:30 PM




Sat

8:00 AM - 4:00 PM




Sun

Closed